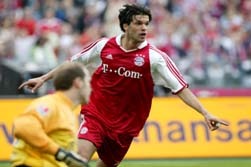 Bayern Munich president Franz Beckenbauer does not believe Bayern Munich will be able to keep Michael Ballack.
The Bundesliga champions have offered the midfielder a massive new contract, but he has yet to sign and appears to be waiting for better offers in January.
Ballack will be a free agent next summer and he has been linked with a move to several of Europe's wealthier clubs.
Manchester United are understood to view Ballack as a ready-made replacement for Roy Keane who quit the club last week.
"We have offered him a four-year contract, a very good one," Beckenbauer told the Telegraph.
"He is already the highest paid player in Germany, but he won't sign.
"We don't have a (Silvio) Berlusconi or Roman Abramovich at Bayern, but we are a wealthy club.
One thing favouring the likes of Manchester United and Chelsea is the tax rate which is considerably lower in England than in Germany.
"The problem in Germany is the tax rate. It is more than 50 percent, while in England it is much lower," added Beckenbauer.
"Nobody in Germany talks about netto (as they do in Italy or Spain, calculating how much they get after tax) and this puts us at a disadvantage."
Subscribe to World Soccer – The essential football magazine