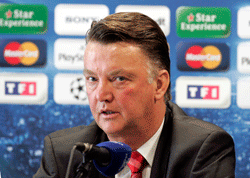 Bayern Munich says its board will speak to coach Louis van Gaal to discuss and resolve "current differences."
The statement from the Bundesliga outfit came shortly after club president Uli Hoeness described the Dutch coach as someone who is difficult to talk to, does not accept other people's opinions and makes poor choices in his team selection.
Karl-Heinz Rummenigge, the club's chairman of the board, talked to Hoeness and Van Gaal separately on Monday and called for talks that would involve the board, the coach, the president and sporting director Christian Nerlinger.
In an outburst on live television on Sunday, Hoeness also said Van Gaal persistently ignores advice.
"I don't really have much more to discuss with him," Hoeness said. "It's difficult to talk with him because he doesn't accept the opinion of other people."
Hoeness said Van Gaal had failed to back his reserve players and that four or five them have been "permanently falsely evaluated" and that the club's board had intervened to keep them at the club.
"Now they are here and are helping us get out of trouble," he said.
Bayern won the domestic double and reached the Champions League final in Van Gaal's first season but the club has fallen 10 points behind Bundesliga leader Borussia Dortmund.
Bayern has been beset by a series of injuries to the likes of Arjen Robben and Franck Ribery, and Van Gaal has been forced to use players who had previously been marginalised, such as defender Martin Demichelis this season, midfielder Anatoliy Tymoshchuk and striker Mario Gomez.
Hoeness praised the reserve players in Bayern's 4-2 win over Freiburg on Friday.
"Demichelis scores the first goal, although he supposedly is free to leave," Hoeness said. Gomez, who scored the second, "supposedly should have been in Liverpool by now," Hoeness said.
Hoeness said Tymoshchuk, who also scored, was the best player of the second half.
"Then you wonder why you keep hearing for a year that he is not good enough for Bayern. And now, suddenly, you see that these players are very useful," Hoeness said.
Hoeness said Van Gaal "will have to live" with his criticism, although he did not think the Dutch coach would accept it.
"Van Gaal has strong opinions that doesn't leave much room. He always gives you the impression that 'you are a good guy, I respect your opinion, but I will do what I want,"' Hoeness said.
Make sure you don't miss any of the last news and articles from World Soccer. Subscribe to World Soccer today and take advantage of our all 50th anniversary offer, saving up to 50%!