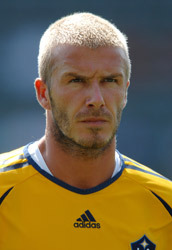 David Beckham's eagerly awaited debut for Los Angeles Galaxy against Chelsea on Saturday is in doubt after he withdrew from his first training session.
Galaxy head coach Frank Yallop said the situation was being monitored, but admitted: "Right now, he's day to day.
"He's not done too much the last two days. His ankle is quite swollen but we hope it recovers quickly and he can have some part in Saturday's game."
Beckham originally picked up the injury in England's Euro 2008 qualifier against Estonia in June, but it was exacerbated during Real Madrid's final league game of the season.
After jogging briefly with the squad at the start of the session, Beckham worked on his own with a trainer in an attempt to strengthen his ankle.
Yallop insisted there would be no pressure on Beckham to play if he was not ready.
"Obviously we want to get him on the field as quickly as we can but we don't want to put him in danger of re-injuring himself," he added.
"The injury has responded in the last few days. It was a long flight and it swelled up pretty bad and today he was not as comfortable as he should have been.
"But it's an injury that will quickly heal up as he hasn't got any structural damage.
"Each day it gets better and better so we're hoping that it's going to clear up by the end of the week and he can participate."