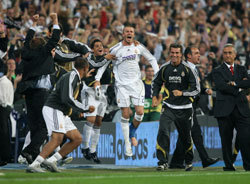 David Beckham ended his career in Spain on a high as Real Madrid sealed the league title for the first time in his four years at the club.
The 3-1 win over Mallorca earned a first major honour for the LA Galaxy-bound player.
Two goals from Jose Antonio Reyes, who is on loan from Arsenal, and an Angelos Basinas own goal clinched Real's crown which had looked in jeopardy until the closing stages.
Beckham, who had been substituted by Reyes, joined the celebrations at the Bernabeu.
"I couldn't have dreamt it any better," said Beckham.
"It's been about winning the title for the last six months – and we've deserved it tonight.
"It's been an incredible experience, but all I remember now is the great things. Winning this tonight now puts to bed everything else.
"There's no doubt I could have stayed with Real Madrid for two or three more years, or for the rest of my career," Beckham said.
"I had to make a decision when I was told I was leaving the club at the end of the season. I've had 15 years playing top flight football for Real Madrid and Manchester United, but I'm moving on to a new challenge."
The England international enjoyed an emotional send-off, as did Brazilian left-back Roberto Carlos, who is joining Fenerbahce after 11 years in the Spanish capital.
However, for much of the night it looked as if Barcelona would be the team enjoying the celebrations. Cruising to a 5-1 win over Gimnastic the Catalan outfit could only wait for updates from the Bernabeu where Real had fallen behind to Fernando Varela goal on 17 minutes.
With Real's leading scorer Ruud van Nistelrooy limping off with a hamstring injury a little over half-an-hour into the game, Fabio Capello's side were showing signs of anxiety in pursuit of their 30th league title.
Beckham, struggling with an ankle injury picked, made way for Reyes, who side-footed home with his first touch from Gonzalo Higuain's drag-back on 68 minutes.
Mahamadou Diarra's downward header put Real ahead before Reyes curled in a third goal from the edge of the area.
Capello future uncertain
Meanwhile, the future of coach Capello remains shrouded in mystery. Three months ago, he was reported to have been on the verge of resigning and even in the wake of Sunday's triumph, his future at the club is the subject of much speculation.
"I'm happy here. I want to carry on but that doesn't depend on me and I've got to talk to the president," said Capello after Sunday's 3-1 win over Real Mallorca.
Capello, acknowledged he had made mistakes, but conceded that his biggest error was to drop Beckham after the midfielder announced in January that he was leaving the club.
"I made several misjudgements, but my biggest mistake was not to count on Beckham after he announced he was leaving," he said. "Not keeping him in the side was my biggest error."
He spoke briefly last week to Real president Ramon Calderon and the two are expected to resume discussions again next week.
"We are going to talk next week. We will look at things calmly," said Calderon cautiously on Sunday.
"Capello still has two years left on his contract. Now let's enjoy this success along with everybody else, then afterwards we'll take a decision together," added Real's sporting director Pedja Mijatovic.