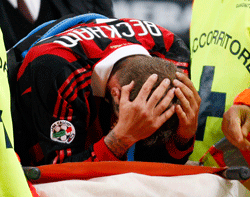 Sevilla take a 1-1 draw back to Spain for their Champions League last 16 2nd leg tie against CSKA Moscow – full betting here.
The surgeon who operated on David Beckham's ruptured Achilles tendon has described the surgery as "a success".
The severity of the injury means Beckham could be out for up to six months, confirmed surgeon Sakari Orava.
The 34-year-old was hoping to represent England in a fourth World Cup but was injured playing for Milan on Sunday.
"I hope to make a swift and full recovery,' Beckham told his website.
"I am upset but want to thank everyone for their messages of support."
The player's spokesman continued: "Following a scan, David Beckham's left Achilles was found to be ruptured.
"Professor Sakari Orava performed a successful operation today, repairing the tendon completely.
"David is expected to make a full recovery. Professor Sakari Orava will conduct a further examination on Tuesday, when a programme for rehabilitation will be finalised."
Dr Orava, who carried out the surgery, said: "The operation went smoothly and nicely."
Asked whether Beckham would be able to play in the World Cup that starts on 11 June, Orava replied: "No, I don't think so… healing takes a long time.
"It is difficult to say how long the recovery period will be but I would guess it will be three or four months and for example for running it usually takes four or five months until one can do it properly."
The severity of the injury has prompted speculation that Beckham's career could be over, but before the operation his spokesman insisted: "This is not the end of his playing career as has been suggested.
"Even if David does miss the World Cup, he is aiming to play [with LA Galaxy] towards the end of the Major League Soccer season."
England coach Fabio Capello, who has yet to finalise his squad for the World Cup, said Beckham would be a loss for the finals in South Africa but added he believed he could return to the England set-up.
Beckham's LA Galaxy coach Bruce Arena confirmed the England midfielder remained an integral part of his plans.
"David remains an important player for the Galaxy and we look forward to welcoming him back and assisting him in his recovery," Arena told the club website.
"We will give him our complete support to make sure that he is able to get himself back to full health before he returns to the field."
Sevilla take a 1-1 draw back to Spain for their Champions League last 16 2nd leg tie against CSKA Moscow – full betting here.
Make sure you don't miss any of the last news and articles from World Soccer. Subscribe to World Soccer today and take advantage of our all 50th anniversary offer, saving up to 50%!