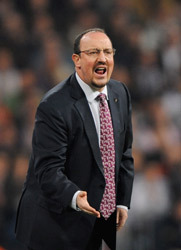 Man Utd & Inter Milan drew 0-0 in their last 16 first leg but Jose Mourinho has lost just 1 of 5 previous visits to Old Trafford.
Buoyed by Liverpool's 4-0 Champions League thrashing of Real Madrid at Anfield, Rafa Benitez has turned his attention to Sunday's top-of-the-table Premiership clash with Manchester United.
After inflicting the heaviest Champions League defeat in Real's history, Benitez believes the emphatic victory could inspire his players against the league leaders.
"This is the best way to approach the Manchester United game," said Benitez. "When you have an important game coming up and the players are playing this well and scoring four goals against a team like Real Madrid, you have to be pleased.
"We play a very good team on Saturday and we have to win. If we can reduce the gap we will be in the title race but we have to wait and see what happens at Old Trafford.
"Hopefully we have given Manchester United something to think about but they have a very good team. At least we will approach the game with a lot of confidence."
Steven Gerrard scored twice in his 100th European game for the club with Fernando Torres and Andrea Dossena completing the victory.
The manner of the victory enabled Benitez to hit back at the critics who have branded him a defensive coach.
He said: "Yes, I know people in Spain think that my teams do not attack, but look at this result and look at the 119 goals we scored last season. That says something different.
"We are ranked the number one club in Europe by UEFA over the last five years and a result like this against a great club like Real Madrid is very pleasing.
"We played really well from beginning to the end, and I am really pleased for the fans.
"Why are we so good in Europe? I can only say that we approach European games with confidence and in the right way.
Real Madrid coach Juande Ramos was deflated by the humiliating defeat.
He said: "We are very disappointed and it is sad that we are out and we are obviously not happy with the result. e conceded two early goals, and I had my doubts about both. There looked to be a foul for the first and the penalty was not clear at all.
"But Liverpool were excellent and deserved to go through. They were too good on the night, and there is no point in denying that they deserved to go through.
Ramos, on a short-term contract as manager of Real, was questioned over the likelihood of that deal being extended after such a humiliation.
"Personal issues will be discussed at the end of the season, they are not for now as far as my future is concerned," he said. "I cannot talk about the previous four years that Madrid have not progressed beyond this stage, but we have not done so this season because Liverpool were better than us.
"We must concentrate on the league now, we must make a huge effort to catch Barcelona now to restore some pride to the season."
Man Utd & Inter Milan drew 0-0 in their last 16 first leg but Jose Mourinho has lost just 1 of 5 previous visits to Old Trafford.
For more fascinating features, subscribe and save 30% and use the below link?