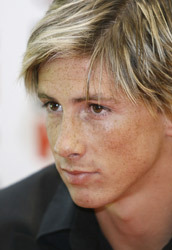 Liverpool manager Rafael Benitez believes striker Fernando Torres should be named this year's Ballon D'Or winner.
Torres, who scored Spain's winner in the Euro 2008 final and 24 league goals in his debut season in England, faces stiff competition from Cristiano Ronaldo of Manchester United and Barcelona's Lionel Messi for this year's award.
"Fernando would be my selection," Benitez told a news conference on Monday.
"He has scored a lot of goals and won the Euros with Spain. Ronaldo is also a very good player but I choose Fernando."
Torres is expected to return to the Liverpool starting line-up against his former club Atletico Madrid in Tuesday's Champions League Group D match at Anfield.
He has been out of action for three weeks after picking up a hamstring injury while on international duty.
"He's 70 per cent fit. We have to train tomorrow and I will talk to him," Benitez said.
"He was training, but not a hard training session. He was doing almost everything. It's a decision between him and me.
"It depends in the confidence of the player. If the player is confident you can take a risk, if not you have to wait.
"Clearly he would like to be play against Atletico Madrid to show he is a very good player. He has a very good relationship with the players and the club."
Liverpool currently top the group, level on seven points with Atletico. PSV Eindhoven, who play pointless Marseille on Tuesday, are third with three points.