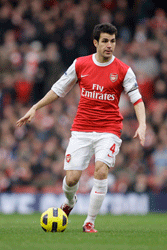 Man United are now a best price 13/8 to win the Champions League after their comfortable 2-0 win over Schalke…
Arsene Wenger insists Arsenal will hold on to their best players following speculation concerning the future of captain Cesc Fabregas.
Fabregas has been pursued by former club Barcelona for the past two summers, but ultimately stayed at Emirates Stadium.
However, the Gunners' likely failure to win any silverware again this season has prompted renewed doubts about Fabregas' future at the club.
Speculation recently claimed that Italian giants Inter are preparing a £35million bid for the midfielder.
However, Wenger dismissed the latest stories concerning his players.
"We do not want to sell our players," said Wenger. "Our players have contracts and they will stay here unless we decide otherwise.
"This is a subject that is not creative, we have answered it in 80% of press conferences. This is a subject that has to stop because the past has shown the question is useless.
"I do not want to go on about the transfer market now, and whether we will buy or not buy."
Man United are now a best price 13/8 to win the Champions League after their comfortable 2-0 win over Schalke…