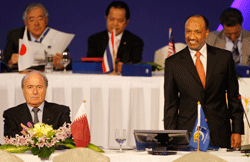 Man United are now a best price 9/1 for the Champions League after qualifying for the quarter-finals on Tuesday night…
Mohammed Bin Hammam has confirmed he will challenge Sepp Blatter for the FIFA presidency.
Qatari Bin Hammam, is currently the president of the Asian Football Confederation (AFC), will stand against Blatter in June's election.
Blatter has been in charge of football's governing body for 13 years and has been re-elected three times since first taking control in 1998.
Bin Hammam took command of the Qatar Football Association in 1992 and four years later was elected by the AFC to FIFA's executive. He is in his third and final term as AFC chief and there had been growing speculation in recent weeks that he would stand for football's top post.
"Today after careful study, consideration, armed with my love for football I have decided to contest in the upcoming FIFA presidential elections scheduled in June 2011," he said.
"The time is right to contest for the FIFA presidency. I have the will to serve people and I always said competition and change is good for any organisations."
The 61-year-old is confident he can become the first Asian to hold football's top post.
"My chances are 50-50," he said.
"Blatter is an experienced person, he has made significant contribution to football worldwide but I believe there is a time limit for everything. There is now a time for a new face and a new heir," he said.
"I have the wish and will to serve FIFA – I have always declared that competition is good.
"I hope that Asia is going to be united behind me, but also the other confederations where I enjoy a lot of friendship and relationships, I hope also those people are going to support me.
Bin Hammam also revealed he wants to expand the number of FIFA executive committee members.
"I propose UEFA gets four more seats, CAF four more seats, Asia four more seats, CONCACAF three more seats, CONMEBOL one more seat and OFC one more seat," he said.
"A new executive committee will be coming, 40 members plus the president is 41 and it will avoid as much as possible for the privilege of the casting vote going to the president.
"I will rename the Executive Committee the FIFA Board and will transfer all the duties and the responsibilities of the Executive Committee as it is today to the FIFA Board."
Other proposals put forward, providing he is elected, include establishing a transparency committee and doubling the financial assistance given to each member association.
The election will take place in Zurich on June 1.
Man United are now a best price 9/1 for the Champions League after qualifying for the quarter-finals on Tuesday night…
Take advantage of the sales by saving up to 36% on a subscription to World Soccer