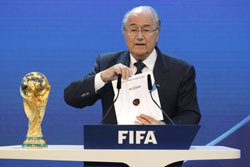 Has Blackpool's bubble burst? After 2 straight defeats they are now 7/2 for relegation this season
FIFA president Sepp Blatter believes leagues comprising 20 teams make excessive demands on players and says that the idea of limiting the number of clubs should be discussed.
UEFA president Michel Platini is in agreement and has argued that competitions such as the Premier League and the Primera Division should consider reducing their numbers.
"In my view, and this is something on which Michel Platini agrees, domestic championships are too long because there are too many teams and too many matches," Blatter told FIFA.com.
"Teams in leagues with 20 clubs play 38 games, on top of which they also have national cup competitions and league cups, etc. This also creates a conflict of interest between national teams and clubs, some of whom complain that their players come back tired or injured. That's not the fault of the international calendar, however, and it's a subject that ought to be discussed."
Blatter also revealed that through the Task Force Football 2014, which has been set up to examine the laws of the game ahead of the World Cup in Brazil in the same year, FIFA will review match regulations.
"Its objective is to assess tournaments and the way in which the game is organised," he said. "Let me give you a few examples. At the moment three points are awarded for a win and one for a draw, which is something we can discuss and decide whether it's a good thing or not.
"Is extra-time the only option we have when a game ends in a draw? And if we stick with extra-time, how should we end games? Is it worth taking another look at the golden goal? Some people like it, some people don't. There are a lot of issues regarding tournaments we can look at and discuss."
Has Blackpool's bubble burst? After 2 straight defeats they are now 7/2 for relegation this season