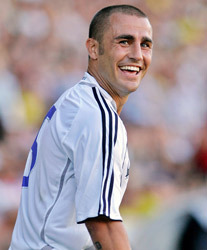 Win tickets to Champions League, the FA Cup Final and Premier League! Click here to enter the Competition!
In a year dominated by the World Cup, it is fitting that the captain of Italy, the tournament winners, has been judged by you to have been the world's best player over the past 12 months.
Fabio Cannavaro is only the second defender to win World Soccer's top prize in the awards' 25-year history, after compatriot Paolo Maldini in 1994. But his margin of victory was one of the highest.
Cannavaro, who left Juventus for Real Madrid in the summer, took 40 per cent of the votes, more than three times as many as Barcelona striker Samuel Eto'o and Thierry Henry of Arsenal and France, who finished second and third. Cannavaro's personal standing appears to have been unaffected by the crisis that engulfed Italian football, and Juventus in particular.
Eto'o's position as runner-up is tribute to his Champions League and Spanish league success with Barcelona, but his cause was not helped by Cameroon's failure to qualify for the World Cup while he also missed the last three months of the year with a knee injury.
Henry was on the losing side in both the World Cup Final and the Champions League Final, the two major competitions of the year.
Ronaldinho, last year's award winner, finished only fourth, a reflection of his poor form for Brazil at the World Cup. Fifth place went to Italy keeper Gianluigi Buffon, who won praise for sticking with Juve despite their demotion to Serie B.
Italy's World Cup victory was also the decisive factor in the Manager award, with Marcello Lippi a clear winner ahead of Barcelona's Frank Rijkaard and Germany's Jurgen Klinsmann. Last year's winner, Jose Mourinho, finished back in fourth.
But it was not to be a clean sweep for Italy, since Barcelona took the Team award. There was a two-horse race for that prize, with Barcelona's flair and attacking style winning the day over the Azzurri's more prosaic approach.
Barca also triumphed in the Young Player award, their Argentinian starlet Lionel Messi seeing off the challenge of Cesc Fabregas and Cristiano Ronaldo.
Another Argentinian, Horacio Elizondo, was named Referee of the Year for his handling of the World Cup Final, as well as the England-Portugal quarter-final.
Full results can be found here

Win tickets to Champions League, the FA Cup Final and Premier League! Click here to enter the Competition!