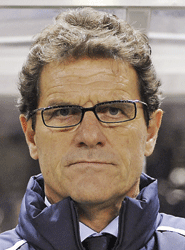 Gavin Beech thinks Man United will comfortably qualify against Marseille tonight – see his best betting tips here…
Fabio Capello admits he is facing a dilemma over who should captain England, with former skipper John Terry a contender to recapture the armband.
The injury problems suffered by national skipper Rio Ferdinand have forced Capello to consider his options.
He is due to meet with the Manchester United defender on Tuesday to discuss the situation, but Ferdinand is set to sit out England's upcoming Euro 2012 qualifier against Wales on 26th March with a calf problem.
With Liverpool midfielder Steven Gerrard, who has stood in for Ferdinand in the past, also injured, Capello admits he needs to make a decision.
"First of all I want to know what happened with Rio's back and when he will be fit because he is a really important player for us," said the Italian coach.
"After that I will explain what I am going to do in the next week, if I will decide on a new captain or about John Terry or something else.
"Why will it be a difficult conversation? It is not because he is not a good captain.
"I will explain what happened in Denmark and what I think. I would understand if he is not happy. But I am the manager. I have to take decisions."
Terry, who was relieved of the captaincy last year, was overlooked in England's recent friendly match against Denmark, when the armband was passed from Frank Lampard to Gareth Barry and eventually ended up with Ashley Cole.
"I don't want to pass the captain's armband around," said Capello.
"I was really upset about what happened in Denmark, when I saw the players saying who is the captain?
"After one year of punishment, it was not the best moment for John Terry to see this. For that reason I need to make a decision – and it will be a permanent decision, not just one game."
Gavin Beech thinks Man United will comfortably qualify against Marseille tonight – see his best betting tips here…
Take advantage of the sales by saving up to 36% on a subscription to World Soccer