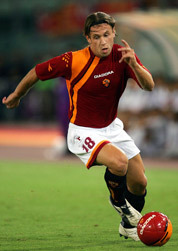 Italy striker Antonio Cassano has Real Madrid on a four and a half-year deal from Serie A club Roma.
"Real Madrid and Roma have reached an agreement over the signing of Antonio Cassano," Real said on their website.
"The 23-year-old Italian international will sign for the club until 2010 pending a medical examination which will be carried out on Wednesday.
"He will be presented to the media at the (Bernabeu) stadium at 1200 GMT."
Spanish media reported that Real had paid around €5.5m for Cassano who had been involved in a dispute with Roma. The deal represents a huge loss for the Serie A side who paid €30m when they signed Cassano from Bari in 2001.
"I've always dreamed of playing in the strongest team in the world and now that dream has come true," he told Real's website.
"Playing for Real Madrid is so important that I'm approaching it with a mixture of delight and responsibility."
"I'm the sort of player that likes to be a leader when I play and I like to transmit my feelings to the people … I'm convinced that we are going to play well and that we can aspire to win everything.
"Everyone has labelled me as a difficult character, but I want to show them that I'm not like that," the 23-year-old told a news conference at the Bernabeu following his 5.5 million euros ($6.64 million) move to Spain.
"I'm here to change and improve as a person and a player.
"Who hasn't made mistakes? I certainly have and I've paid dearly for them," he added.
"As for the reasons for why I left Roma, all I can say is that whenever there is a divorce the fault lies with both sides and that is true in this case."
Real's vice-president Emilio Butragueno said the Italian was aware of the pressure he was under after signing a four and a half-year deal with his new club.
"Cassano is an undeniably talented player, who despite his youth has played at the top level in one of the most competitive leagues in the world for several years," he said.
"He knows how to cope with the pressure and is aware that Real Madrid demands the maximum of every player both on and off the pitch.
"He is the second Italian to wear the Real Madrid shirt and knows that it is a big responsibility to represent his country while at this club."
Cassano replied by saying it was a "dream come true to play for the strongest and most famous club in the world.
"It is a very emotional moment for me," he added. "It is one thing saying you want to play for Real Madrid, but quite another when you are presented to the fans at the Bernabeu.
"I've not trained for 15 days and I'm not in ideal shape, but if the coach wants to play me straight away then I will be delighted."
Cassano becomes the 11th new player to join Real in the last year and a half and brings the club's total expenditure during that period to over €155m.
The Italian international has had a series of high-profile rows during his time at Roma, clashing with former managers Fabio Capello and Luigi Del Neri before falling out with the club's general manager Rosella Sensi in October.
Azzurri coach Marcello Lippi has frequently warned Cassano that he wants him to be playing regular football before he can be considered for Italy's World Cup squad. However, as a result of his contract dispute with Roma, the forward has made only five Serie A appearances this season.
Cassano is the second player to join Real during the January transfer window, his signing coming less than a week after Brazil right back Cicinho completed a move from Sao Paulo.
Subscribe to World Soccer – The essential football magazine