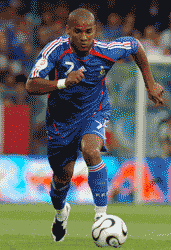 Chelsea have lodged a £12m bid for the Lyon winger Florent Malouda, according to reports in the French press.
The move for Malouda could well spell the end of Arjen Robben's Chelsea career, with the Dutch winger linked with a move to Real Madrid.
"We are in talks with Chelsea and the player and we hope to sign him," Madrid's president, Ramón Calderón, said earlier this month.
"Bringing Robben was one of my pledges when I was running for president and it still remains the case."
Chelsea have offered Robben a new contract but he is understood to favour a move to the Bernabéu.
Malouda is a former club-mate of Didier Drogba at Guingamp and the Chelsea striker recently said he would "walk to Lyon" to bring the 27-year-old Frenchman to Chelsea.
Arsenal and Liverpool are also interested in Malouda but would not fancy their chances in a bidding war with Chelsea. Lyon have said they would not sell him for less than £17m but Chelsea could expect to raise a similar sum from the sale of Robben.
If Chelsea manage to agree a fee with Lyon, Malouda will be their fourth summer signing, following Steve Sidwell, from Reading, Claudio Pizarro from Bayern Munich and Tal Ben Haim from Bolton Wanderers, all on Bosman transfers.