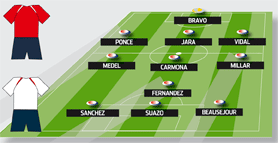 Bielsa is an admirer of Bayern Munich's former Ajax coach Louis Van Gaal – another man with a strong blackboard approach to football – and often lines up his teams in the Dutchman's preferred 3-3-1-3 formation.
Chile's game is based on a high percentage of possession, with as much of it as possible in their opponents' half, using a dynamic three-pronged attack prompted by a central playmaker, with their defence layered through two three-man barriers.
Far from stubborn, however, Bielsa is perfectly happy to make changes during a game – to the point, sometimes, of correcting a substitution with another soon afterwards if he finds the original move was a mistake.
Tools to resolve problems
The coach's methods are highly charged, but his secret appears to be not to make his instructions become a burden on the players. Instead, he makes his players see those instructions as tools to help resolve problems during matches.
Bielsa relies on the intelligence of his players and they respond well to such treatment. He will only criticise them if he feels they are overdoing things. He once told his defender Vidal that while his complicated actions during a training match might impress his Bayer Leverkusen coach it was just wasted effort for him, advising the Bundesliga defender to just "keep it simple".
Team – 3-3-1-3
Claudio Bravo; Waldo Ponce, Gonzalo Jara, Arturo Vidal; Gary Medel, Carlos Carmona, Rodrigo Millar; Matias Fernandez; Alexis Sanchez, Humberto Suazo, Jean Beausejour.