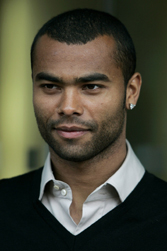 Arsenal defender Ashley Cole is expected to be left out of Arsenal's squad for Tuesday's Champions League qualifying tie against Dinamo Zagreb.
Reports suggest Cole, who has been linked with a move to Premiership champions Chelsea, will stay at home.
Cole was in the Champions League squad submitted by Arsenal to Uefa, but will be inelligible for Chelsea in the competition if he plays in Tuesday's qualifier.
Arsenal vice-chairman David Dein has admitted that initial talks between the two London clubs have taken place.
Chelsea were fined – together with the club's manager Jose Mourinho and Cole – in June 2005 after they breached league rules by meeting without Arsenal's knowledge.
Cole's relationship with the Gunners has been deteriroated since then, and in his forthcoming autobiography, the defender criticised Arsenal for making him a "scapegoat" over the tapping-up affair.
A move now looks likely, although with Arsenal holding out for £30m for the defender, Chelsea may decide to look elsewhere unless that price comes down significantly.