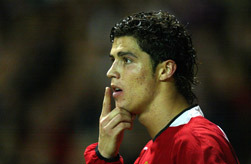 Arsenal go into their Champions League 2nd-leg against PSV as the only British team trailing. Click here for the latest match odds!
Barcelona midfielder Deco would be delighted to see his fellow Portugal international Cristiano Ronaldo move from Manchester United to the Spanish club, Portuguese radio has reported.
"I don't know if they are going to hire him or not but if they did it would be without a doubt a great signing," Deco told radio Antena 1.
"Without a doubt, if he came to Spain I would prefer it if he joined Barcelona. I think he is in fantastic form, he has grown every day as a player, and Barcelona would be well served if he joined the club," he added.
Ronaldo's impressive form for Manchester United this season has reportedly attracted interest from Barca and Real Madrid and the 22-year-old striker.
Last month Portugal's Brazilian coach Luiz Felipe Scolari advised Ronaldo to move to Barcelona, saying he would complement Brazilian international Ronaldinho "perfectly."
"For Cristiano, the Barcelona climate would be important – most days are sunny and it's hardly ever cold like England. That gives a player all the motivation he needs to train and play," said Scolari.