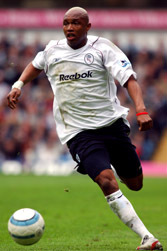 El-Hadji Diouf has joined Bolton on a four-year deal after the clubs agreed an undisclosed fee.
The 24-year-old Senegal striker scored nine goals while on loan with Bolton last season, helping them qualify for the Uefa Cup.
"He has all the skills to become one of our most significant signings in the modern era," boss Sam Allardyce said.
"Last season he was a revelation. We will give him the platform he needs to become one of Europe's top strikers."
Former African player of the year Diouf joined Liverpool from Lens for £11m after the 2002 World Cup, but failed to make an impact at Anfield. However, during a season on loan at the Reebok stadium, he went on to score 9 goals for the Trotters.
"He has had a turbulent last few years but now he can take all that pressure off his shoulders and concentrate on playing football at the highest level."
Diouf told Bolton's website: "Sam Allardyce is the best manager I've ever worked with. He makes you feel important and most of all lets you play football without worrying about anything else.
"Last season was my best spell for nearly five years and gave me an understanding that my career was going nowhere at Liverpool.
"The Bolton fans have made me welcome and are always chanting my name.
"As a player that makes you feel so proud and all you want to do is play to your best and not let the fans down – they mean a lot to me."