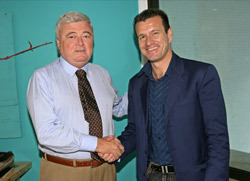 Former captain Dunga has been named as the new coach of Brazil following the departure of Carlos Alberto Parreira.
The skipper of Brazil's 1994 World Cup-winning team replaces Parreira, who quit after Brazil lost to France in the World Cup quarter-finals.
Ricardo Teixeira, president of Brazil's football federation (CBF), said: "We've chosen Dunga because he will completely fulfil the fans' desire of having a vibrant coach for the national team."
Teixeira said the choice of Dunga was part of a restructuring of the team with a view to the 2010 World Cup in South Africa and the 2014 championship, which Brazil hopes to host.
Dunga, who is also on the board of directors at QPR, has had no coaching experience since retiring as a player. He was a combative defensive midfielder who also played in the 1990 and 1998 World Cups. He played 116 times for Brazil and won the Confederations Cup in 1997 as well as the Copa America in 1989 and 1997.
But the 42-year-old said: "I want to bring the same determination I had as a player.
"Motivation and will to win are fundamental for anyone who wants to wear the shirt of the Brazilian national team."
His first game will be a friendly with Norway on 16 August in Oslo.