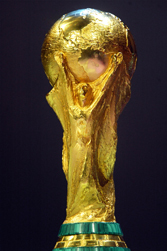 England has indicated its willingness to bid for the 2018 World Cup after the government announced a study of the feasibility of hosting the event.
The move was unveiled by Chancellor of the Exchequer Gordon Brown, the man tipped to succeed Tony Blair as Prime Minister.
"We have shown with the 2012 Olympics bid that, with the right long-term preparation and the full backing of government and the nation, we can bring the biggest international sporting events to Britain," Brown said in a statement released on Friday.
"By 2018, it will be more than 50 years since England hosted the World Cup, and millions of fans will agree it is time to host it again, in the best stadiums and in front of the most passionate supporters in Europe.
"We are now starting work to understand what produces the best possible bid, how government can support and assist the process, and how to ensure a bid will bring maximum benefits for every region."
The feasibility study will be carried out by officials from the Treasury and the Department for Culture, Media and Sport who will report back to Brown and culture minister Tessa Jowell next year.
The final decision on whether to make a bid will be made by the English Football Association (FA).
FA chief executive Brian Barwick welcomed the government move.
"Any successful World Cup bid needs government support, as we saw with the 2012 Olympic success," said Barwick.
"If the 2018 World Cup comes to Europe we will be giving very serious consideration to making a bid.
"A World Cup in England would be a fantastic event, and we welcome the Government's study to look into the feasibility of hosting the tournament in this country."
England last hosted the World Cup in 1966, the only time they have won the competition.
FIFA, football's world ruling body, have yet to confirm that the tournament will return to Europe in 2018, although given their policy of rotating the finals, Europe is deemed the likely host in 2018.
Subscribe to World Soccer – The essential football magazine