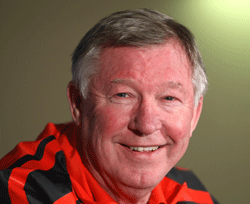 Man City are now a best price 7/2 for the FA Cup following their 3-0 win over Aston Villa last night…
Sir Alex Ferguson could face disciplinary action after the Football Association requested a copy of his post-match interview with MUTV following Tuesday's encounter with Chelsea at Stamford Bridge.
Ferguson was critical of Atkinson's performance in United's 2-1 defeat, and he also said he "feared the worst" when the official was appointed to the match and implied Atkinson is not a "strong" or "fair" referee.
Atkinson's decision to award the Blues a penalty for a foul by Chris Smalling on Yuri Zhirkovwas described as 'soft' by Ferguson, but it was the failure to send David Luiz off for a number of fouls after the Brazilian had already been booked that really angered the United boss.
The FA has asked to see footage of Ferguson's post-match interviews to determine exactly what the manager said and in what context.
Ferguson said after the Stamford Bridge match: "You hope you get a strong referee in games like this. It was a major game for both clubs. You want a fair referee – or a strong referee, anyway – and we didn't get that.
"I don't know why he has got the game. I must say, when I saw who the referee was I did fear it. I feared the worst."
Alan Leighton, from referees' union Prospect, said: "The ball is in Sir Alex's court. I'm less interested in whether he's charged than removing this stigma from the referee at Stamford Bridge.
"The referees are saying that if one is questioned then it questions them all. None of them want their integrity impaired. So the best way would be a retraction."
Ferguson will learn by 4pm on Friday whether he will be charged with improper conduct and face a touchline ban.
Given the United boss already has the remaining two matches of a four-game touchline ban hanging over him following comments about Alan Wiley's fitness last season, a further spell in the stands appears inevitable if the Scot found guilty of misconduct.
Man City are now a best price 7/2 for the FA Cup following their 3-0 win over Aston Villa last night…
Take advantage of the sales by saving up to 36% on a subscription to World Soccer