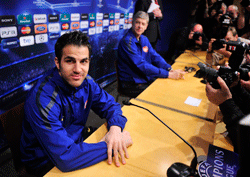 Joe Kiddle has an 80/1 tip for tonight's Champions League game between Barcelona and Arsenal – see what it is here…
Arsenal captain Cesc Fabregas says he is looking forward to the prospect of playing at Camp Nou for the first time against Barcelona.
The Spanish midfielder is expected to be fit for Tuesday night's Champions League last-16 clash after recovering from a hamstring injury.
Fabregas left Barcelona as a teenager to join for Arsenal before he got the chance to play at the home of his former club.
"I've never played in the Nou Camp before and this will be one of the most exciting nights of my career," said Fabregas in The Sun.
"To finally have the chance to take to the pitch at this mythical stadium is something I cannot fully describe.
"The feeling is enormous and incredibly exciting."
Despite being linked with a move back to Barca last summer, Fabregas says he is only concentrating on tonight's game.
"We have played so many games where we shown we have character, we have potential and that we are the present," he added.
"We want to win things for the club and this is obviously a fantastic exam for all of us a team and individually."
The Spain midfielder is close friends with several members of the Barcelona side having enjoyed World Cup success with a number of them last summer.
Two of those friends are Carles Puyol and Gerard Pique, who will miss Tuesday's clash, and Fabregas feels their absence provides a welcome lift to Arsenal's chances.
He said: "I believe it is a big boost for Arsenal that two of my close friends – Carles Puyol and Gerard Pique – are not playing this evening as the former is injured while the latter is suspended."
Fabregas has reminded his side that last month's 2-1 first leg victory will mean nothing if they do not finish the job at Camp Nou.
He added: "We should not rest on our victory in the first leg. The job is not finished by a long way.
"In the first leg we proved once again we have guts and character. But it's only the halfway stage. All that hard work and effort means nothing, absolutely nothing, if we don't finish the job off."
Joe Kiddle has an 80/1 tip for tonight's Champions League game between Barcelona and Arsenal – see what it is here…
Take advantage of the sales by saving up to 36% on a subscription to World Soccer