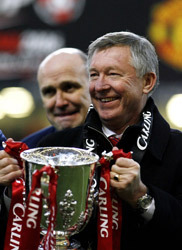 Manchester United manager Sir Alex Ferguson has played down his decision to drop Ruud van Nistelrooy for the 4-0 Carling Cup win over Wigan on Sunday.
Ferguson said striker Louis Saha was selected for the final because of his form in the competition and denied that Van Nistelrooy had been angered by his demotion to the substitutes bench.
"He seemed to be OK in the dressing room before the game and he was OK with the players," said Ferguson.
"He's disappointed but he had to be disappointed, that's the nature of it."
Saha scored the second goal in United's victory, taking his tally in this season's competition to six.
"Since he has been fit he has scored 10 in 13 games, there is a danger of overlooking it and not giving him his credit," added Ferguson.
"The top scorer in the League Cup has been Louis Saha and that's the reason he played," Ferguson added.
"He'd scored five goals in the previous games and I think he deserved to be in the final. If you keep overlooking players you're going to create a problem for yourself.
Ferguson also mentioned that he had been dropped for a major cup final in his playing career.
"It happened to me in the Scottish Cup final in 1965 and I was dropped at 10 past two." said the United boss.
However, the United manager omitted to mention that he stormed out of the ground on hearing that he had been dropped.
Ferguson said that the game was won by his side's devastating spell of three goals in six minutes early in the second half.
"We went for the second goal, which would hopefully win the game, but they had a chance straight after that and Edwin van der Sar made a great save from Henri Camara," he stated.
"The two quick goals won the game for us.
"Credit goes to Wigan because they had a go, they attacked us and had good opportunities in the last third of the field.
"We defended very well and when it comes to goal threats we have plenty in the side."
Ferguson singled out Ryan Giggs for praise.
"I thought Ryan was absolutely fantastic," he said.
"When it comes to running up and down the line, there is no one to match him. He was very mature and controlled."
Subscribe to World Soccer – The essential football magazine