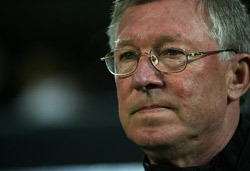 Roberto Mancini has won his first 2 Premiership games as Man City manager – can they make the top 4? See the odds here
Manager Sir Alex Ferguson was highly critical of his players as Manchester United were knocked out of the FA Cup by League One side Leeds.
Ferguson said Leeds had deserved the victory as their rivals won 1-0 in a surprise result at Old Trafford.
"I didn't expect that performance, it was shocking. I've no complaints about the result," said Ferguson.
But he did complain about the amount of injury time being played, describing the five minutes as "an insult".
He questioned referee Chris Foy's timekeeping and stated: "That is an insult to the game and the players out there."
Ferguson, who has already served a two-match ban this season for criticising a referee and has a suspended two-match ban hanging over him, may again find himself in trouble with the authorities for his latest remarks.
Sunday's second half was punctuated by several petty squabbles and an injury to Leeds goalscorer Jermaine Beckford and there were five substitutions before the additional time was shown.
However, Ferguson reserved most of his anger for his players after Manchester United were defeated by lower league opposition for the first time since they were beaten in Bournemouth in 1984.
"Leeds deserved to win. They got breaks at times but deserved their luck – I'm disappointed," added Ferguson.
The Scot had picked a side including the likes of Gary Neville, Wayne Rooney and Dimitar Berbatov, while the less experienced Danny Wellbeck and Fabio da Silva were also on show.
He told MUTV: "We did speak about Beckford's pace up front.
"We were caught napping really, it was a bad goal for us to lose. The whole performance in the first half was bad. We never got going and the quality of the passing… the whole performance was just bad.
"I don't think any of the players can say they had a good day. Maybe only [substitute Antonio] Valencia, when he came on, can say that. Even then it took us about 10 minutes to get the ball to him.
"You expect us to get a goal at Old Trafford and the intensity of our game improved a little bit in the second half. We had a lot of chances in the box but on the day we didn't take them."
"You need a bit of luck at Old Trafford and we rode our luck in the penalty box at times, but not over the course of the game," Grayson told BBC Radio 5 live.
Meanwhile, a delighted Leeds boss, Simon Grayson, praised for his players for sticking to his game plan.
"The players took to the task I asked them to do," he said.
"We wanted to go out and try to win. No one expected us to win, and not many teams come to Old Trafford and win, but we achieved our target."
As many as 9,000 Leeds fans travelled to Old Trafford, helping to provide a great atmosphere for the game.
"Our supporters have had a lot of negativity over the last few years and we have given them a result to send them away delighted," said Grayson.
"Our fans were there for us. It is not just about taking 9,000 to Old Trafford. We have taken 3,000 to Bristol Rovers on a Tuesday night. Every away allocation, we sell. We regularly get 25,000 at home."
Roberto Mancini has won his first 2 Premiership games as Man City manager – can they make the top 4? See the odds here