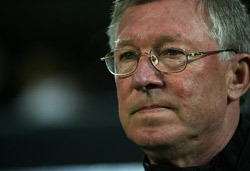 Barcelona v Bayern Munich – Weds – click here to read preview
Sir Alex Ferguson has admitted Manchester United paid the price against Porto for the 'gamble' he took by choosing to play just 48 hours prior to the Champions League tie.
United boss Ferguson had the option of facing Aston Villa in the Premier League last Saturday lunchtime but he chose to arrange the encounter for the Sunday, reasoning that his players would welcome the additional rest after representing their countries on World Cup duty.
United overcame Villa in a pulsating encounter, but struggled on Tuesday night when they took on Porto at Old Trafford in the first leg of their Champions League quarter-final tie.
The fixture ended in a 2-2 draw and Ferguson has conceded the result means the European champions have a "difficult" task ahead at Estadio do Dragao.
He said in The Sun: "We showed tiredness because of the gamble I took playing Sunday which was not the best preparation.
"But we faced a situation and we took the best option hoping a European occasion would bring the adrenalin up."
Ferguson added in The Guardian: "I was tempted to get Villa moved to the Saturday.
"However, we had so many players on international duty in places like Bolivia, Rio de Janeiro and Korea, involving some very long and tiring journeys, I thought it best to go with Sunday."
Ferguson also rued his team's defending on the night, with his depleted back four suspect on both goals.
The Scot, who has seen his side concede ten goals in their last four matches, added: "It shows the fragile nature of our defence at the moment."
"It was a terrible goal to give away when you are 2-1 up and seeing the game out.
"It is a difficult job now, not made any easier when they tell you no British team has won in Porto.
"But we only have ourselves to blame. We just have to win. We have been first at everything at this club. Let's hope we can be first again."
Meanwhile, Porto coach, Jesualdo Ferreira, paid tribute to his players.
"I would like to congratulate my players because they deserved what they achieved," he said. "We never forgot we were playing against the reigning world and European champions but we tried to create problems for United and we managed to do that. It's a good result to take to the Dragão but the tie's not settled yet.
"It's great to see two players like Fernando and [Aly] Cissokho, who are very young and pretty much still boys, showing such ambition, ability, concentration and maturity. It means a lot to work with a team like this. It's not easy to reach the quarter-finals but we deserve to be here. We never blame individuals; we concede goals as a team and score goals as a team. We try to explain to the players when they make mistakes but we leave it at that.
"In the first half at least, we were the team who attacked more and who had more corners. In the second half we tried to contain their attacks and did just that. We reacted well to conceding the second goal; it's good to see the players react like that. I'm aware we had more chances and opportunities than Manchester United, though they probably had more possession.
Ferreira acknowledged that there is still plenty of work to be done if his side are to reach the semi-finals.
"What we need to do is try to speak to the players and convince them they can do even better [than this result], that they're capable of going even further than this," said the 62-year-old. "Reaching the quarters is a big achievement but we'll try to go even further. We know that United are very strong and that they will be a different proposition in the second leg. They'll know that they need to win or draw by more than two goals to go through. Whatever happens, nothing can take away what we did today."
Barcelona v Bayern Munich – Weds – click here to read preview
For more fascinating features, subscribe and save 30% and use the below link?