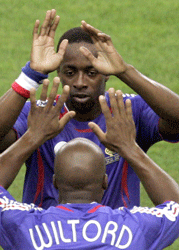 Betting on Football? Claim £500+ in free bets – click here now.
France gained a modicum of revenge their World Cup final defeat with a comfortable victory over Italy in their Group B Euro 2008 qualifier.
Sidney Govou twice and Henry added another in the 17th for his 37th international goal, while Alberto Gilardino replied for Italy.
The animosity between the two sets of supporters was apparent even before kick-off when French fans began booing the Italian national anthem, but soon stopped. Later, with the victory assured , some fans at Stade de France broke into chants of "Zizou, Zizou," in homage to the retired Zidane. In response, the Italian fans chanted the name of Marco Materazzi in acknowledgement of the defender who provoked Zidane into his infamous head-butt.
"The perfect match is where you score on every attack and where you are never in danger," France coach Raymond Domenech said.
"I have to admit we weren't far from the perfect match."
France have six points from two matches in Group B, behind Scotland on goal difference. Italy, the World Champions, have collected only one point from their two matches.
Italy coach Roberto Donadoni admitted that France looked like the fitter team.
"We thought they might be a bit fresher and more lively than us," Donadoni said.
"We have beaten two World Cup winners in the last two months," said Domenech, referring to the World Cup quarterfinal win over Brazil.
"But what's more important is that we have distanced Italy by five points."
Domenech told his players not to get carried away by the win.
"Let's not think we have already qualified," he said.
"We need to stay calm. But if we win in Scotland, then we will be in a strong position in the group."
With two minutes gone, Henry found William Gallas and his cross was volleyed into the corner of the net by Govou.
"We knew Sidney would be ready and we had no worries about that," Domenech said.
Henry ended a seven-game run without a goal when he curled the ball under Gianluigi Buffon from 12 yards after the goalkeeper had blocked Florent Malouda's effort.
Italy pulled a goal back when Gilardino was unmarked to head in a free kick from Andrea Pirlo.
France scored their third goal after the break – with Govou again selected due to an injury to Louis Saha, headed home Sagnol's cross.
Betting on Football? Claim £500+ in free bets – click here now.