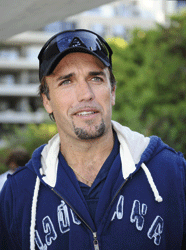 World Soccer: We haven't seen you in Europe for a while, Gabriel…
Gabriel Batistuta: I don't call journalists when I come to Europe! In Italy they complain that I do not visit, but I have a house in Florence which I visit three or four times a year. I just don't call in advance!
What have you done since you stopped playing?
Resting. I spent two years in Australia, where I just rested. Then I went back to Argentina, to the place where I was born, Santa Fe. I play a lot of golf and I've started to play polo.
So you keep horses for the polo?
Yes, I keep them on the farm which I own with my father. We also breed cattle.
So life is good away from football?
I can't complain.
Do you watch much football?
I watch more matches now than when I was playing. I go to the stadium when I can, but I also watch a lot of games on TV. At this moment in my life I'm still resting from the 20-year pressure that I went through.
Do you plan to go back to football at some point?
I've got my coaching diploma but my plan, if I go back to football, would be as a team manager, not as the coach.
Is that because coaching is too stressful?
All over the world it is the same. Unfortunately the profession of coaching is a very short-lived one, regardless of whether you win or not. And I'm not very passionate about that!
Do you have a favourite for the World Cup, other than Argentina?
Brazil have to be favourites. Spain have been playing well. Argentina have a good chance because they have plenty of good players and a coach who has won a lot of times and can transmit his winning mentality to the players.
Diego Maradona was criticised for changing the team a lot in the qualifiers. Could the World Cup be different, because he cannot alter his squad of 23?
The difference will be that he can work with the same players for a month before, and it all depends on how the players are feeling when they arrive at the World Cup.
You played with Maradona in 1994. Was he the most forceful personality in the squad?
No, we all had strong personalities. We all wanted the best for the team. So we let people talk in the dressing room and made sure we were all heard. Maradona was no exception.
Was 1998, when you reached the quarter-finals, a better tournament for you?
None of the three World Cups I played in were good for me because we did not win. For us Argentinians it was the same going back after three games or five games.
Why did you end your career in Qatar? You could have moved anywhere.
I was at the end of my professional career. I wanted another experience, I wanted to learn about another culture. If I went to Spain or England it would have been something very similar to what I had already experienced.
What was different about the lifestyle. Was anything difficult?
No, I felt at ease from the start. I went with my wife and my children. We found schools of a high standard. The hospitals were a high level. My fourth son was born there and I wanted him to be born there. That was a factor in my staying for two years.
And now you're involved with Qatar's 2022 World Cup bid.
My two years living there were a wonderful experience for me and my family. I stopped playing because I had problems with my ankles, but the time I spent there was always in the back of my mind. It was a pleasure to be contacted by Qatar because it meant I must have left a positive impression there.
A World Cup in Qatar would be a very different tournament. We tend to think of World Cup Finals in famous footballing cities like Buenos Aires or Rome.
FIFA's motto is football for everyone. We've never had a World Cup in the middle east. In recent years, the Arab world has opened up. We have a chance for FIFA to give the Arab world this opportunity.
How are the playing conditions? People are concerned about the temperatures.
I played there for two years. It was hot but you can play perfectly well. Now they are working on a cooling system at the Al Sadd stadium where the technology enables the temperature inside the stadium to be 20 degrees when it is 30 or 40 outside.
What did you think of the Thierry Henry handball?
When you are on the pitch, things happen and you don't know what the reaction will be. Maybe he didn't know what he did.
So Henry's action was instinctive?
Certainly. But FIFA should accept the help of technology. I don't see why football should not open its doors to new technology.
Were there any times in your career when TV replays would have helped?
Certainly. There's suspicion about referees. People think how can the referee not see things that are seen on TV? Replays would help to eliminate any suspicion.
Lionel Messi played for your old team, Newell's Old Boys, but went to Europe as a very young teenager. You went to Italy at a much older age. Do players go to Europe too early nowadays?
Yes. When I started playing, I was 18 years old. When Messi was 18 he had won trophies with Barcelona. Those are the two extremes. I started late, he started very young. The truth is somewhere in the middle.
There's been a lot of pressure on Messi from a very early age. You were able to grow up more slowly.
South American players grow up quickly, from a sports point of view, but mentally they're not well prepared. It's difficult to see a Spanish, Italian or English player in the top division when he's 18. In Argentina, when you're 18, you've already played in one or two championships. The clubs need to sell, so they sell a 20-year-old player because another one is right behind.