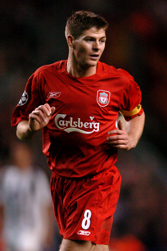 Help us with a Sport and Betting Survey! Click here to take part now.
Liverpool skipper Steven Gerrard admits he has 'never been happier' after opening talks over a new contract.
Gerrard, who came close to leaving Anfield two years ago, is set to sign a new deal that will keep him at the club for the rest of his career.
New owner Tom Hicks has expressed his desire to see the midfielder sign an extended contract on Merseyside.
"Tom Hicks has said he cannot see me playing for another club, and yes, I'm in talks to extend my contract at Liverpool and I've never been happier with my football," Gerrard told the club's official website.
"I'd love nothing better than to get this contract sorted and signed, so I can understand where he's coming from.
"We need to keep all of our big players here, so it's very important we get the contracts sorted out so they can be here for a long time."
Gerrard also revealed he was surprised that Liverpool will meet Milan in the Champions League final again, because he was expecting to meet Manchester United.
He added: "I'm confident we can go to Athens and bring the cup back home.
"But Milan are a fantastic team and we know it's going to be really difficult, so we need to be right at the top of our game.
"I was really surprised actually that they won their semi-final because I had confidence that Manchester United would get the result they required.
"I thought it was going to be a Liverpool-Manchester United final, but credit to Milan because they were excellent on the night and deserved to win the game."
Help us with a Sport and Betting Survey! Click here to take part now.