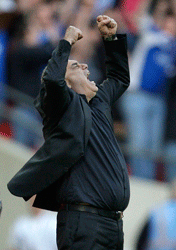 Tottenham haven't beaten Arsenal in the league since 1999 – can they change that this Wednesday? Full betting here.
Portsmouth manager Avram Grant said a place in the FA Cup final was a just reward for not giving up during a tumultuous season.
A day after relegation from the Premier League was confrimed, two extra-time goals gave debt-ridden Pompey a 2-0 win over Tottenham and set up a final with Chelsea in May.
"To be in the final because of what's happened is a good lesson to everybody not to take the easy solution. The easy solution is to give up," stated Grant.
"We have lived day by day. Despite this we're in the final. It is a crazy day."
Portsmouth's place in the Championship next season was confirmed after West Ham's 1-0 victory over Sunderland on Saturday left them 17 points from safety with only 15 points to play for.
"This is a great achievement after what has happened," added Grant.
"One day I came and all my staff said to me next week there is no club. We could write a book about the many things against us this season.
"I cannot even describe what I feel. This achievement is more than football – to be in the final, it's unbelievable."
Portsmouth's relegation had been expected following their nine-point deduction as punishment for going into administration in February.
Grant, who replaced the sacked Paul Hart at Fratton Park in February, added: "These fans this year, I will not forget it all my life.
"This achievement belongs to the fans and the players. The players did not give up and these fans show how fans need to be."
"Even if we had come with our strongest squad, Tottenham are still probably better than us.
"With tactics you can do things against teams that play very good football.
"We didn't even have one defender on the bench. They did a great job, they scored two goals, what more can I ask?"
Pitch is a disgrace
Meanwhile, Tottenham manager Harry Redknapp branded the Wembley pitch a "disgrace" after his side's defeat.
"The pitch is a disgrace, a disgrace. I won't use the pitch as a excuse because it was the same for both teams," said Redknapp. "But for any professional team to have to play football on that is farcical. How can you play on a pitch you can't stand up on?
"You have to spend the whole time making sure you don't fall over. That can't be right can it? It's farcical.
"Michael Dawson slipped on it and I was here yesterday and saw people unable to keep their feet. It's unreal. I said before the game that anyone can slip on that pitch, so you'll have to be very careful.
"Yesterday I saw goalkeepers trying to kick balls but fall over. That's how bad the pitch is – it's rock hard and wet on top. It's impossible play on."
Spurs missed a number of chances with Peter Crouch the worst offender, although the England striker did have a goal disallowed after Niko Kranjcar pushed David James in the build up.
"It wasn't our day, sometimes it isn't. We had opportunities but we couldn't stick one away," said Redknapp.
"It was a good goal that we had disallowed, I've watched it four or five times but that's how it goes.
"Full credit to Portsmouth, they were always dangerous on the counter attack and had pace.
"They're a threat – they have pace up front and out wide. They're always dangerous on the counter attack.
"Full credit to Avram Grant. He's done a great job because they were well set up and organised. It was their day. I wish them every success in the final."
Tottenham haven't beaten Arsenal in the league since 1999 – can they change that this Wednesday? Full betting here.
Make sure you don't miss any of the last news and articles from World Soccer. Subscribe to World Soccer today and take advantage of our all 50th anniversary offer, saving up to 50%!