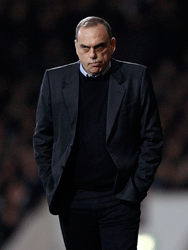 Leading football tipster Simon Hopper gives his best bets for Man City v Leicester tonight
West Ham are "committed to retaining Avram Grant as manager" after reports had linked Martin O'Neill with his job.
Accoring to reports, O'Neill, who left Aston Villa in August, decided over the weekend against accepting an offer to replace the 55-year-old.
It is understood that West Ham believed they had an agreement with O'Neill at the end of last week but that he has now changed his mind.
The club issued a statement reaffirming their commitment to Grant, while also deny a report in the press on Tuesday which claimed the club's vice-chairman Karren Brady had contacted members of the playing squad in a bid to unsettle Grant.
"West Ham United categorically deny the allegations made in today's Daily Mirror with regard to Karren Brady, the club's vice-chairman," read a club statement.
"Karren has worked tirelessly to improve all aspects of the club's operation and is extremely disappointed by the nature of these unfounded allegations.
"West Ham fully intend to identify the source of these unhelpful and untrue comments and remove them from the club. West Ham have placed the matter immediately in the hands of their lawyers.
"The club are committed to retaining Avram Grant as manager and have identified potential transfer targets to give us the best possible chance of retaining Premier League status."
West Ham are bottom of the Premier League but have won three of their last six games under Grant.
Leading football tipster Simon Hopper gives his best bets for Man City v Leicester tonight
Take advantage of the January sales by saving up to 36% on a subscription to World Soccer