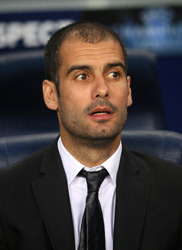 Hamburg take a 1-0 lead back to the Nordbank Arena for the second leg of their UEFA Cup semi-final against fellow Germans Weder Bremen.
Barcelona boss Josep Guardiola was simply "so, so happy" after Andrés Iniesta's injury-time strike earned his side the draw and an win on away goals against Chelsea in Wednesday's Champions League semi-final at Stamford Bridge.
For opposite number Guus Hiddink, however, there was only regret and disappointment as his side came close to earning a repeat final against holders Manchester United.
Iniesta's late goal made the scores 1-1 on the night after Michael Essien had given Chelsea the lead early in the first half.
"We tried to win the game, use the ball and create chances," said Guardiola. "We didn't create so much – I expected Chelsea to come out a little more but they didn't do that so it was difficult for us. I have a lot of faith in my team, we kept trying and don't forget we played for 25 minutes with ten men.
"It's fair to say Chelsea created chances on the counterattack but they were still a bit conservative because when you have players like [Lionel] Messi, they know we're a threat.
"It's difficult to play Chelsea with eleven men, never mind ten, but we kept trying and we are so, so happy. Chelsea are so good on the counterattack but we showed strength and bravery, hung on and created that chance right at the end.
"I'm very happy for Andrés, he's a great player who represents Barcelona in many ways. He gets a lot of criticism for not scoring enough goals but hopefully that will stop from today.
Looking ahead to the final against United on May 27, Guardiola said he expected United to adopt similar tactics to those employed by Chelsea.
"United are the defending champions, an unbelievable team, and have a coach with lots of experience," he continued. "I expect them to sit back and challenge on the counterattack – that's what I think, although I have to watch our semi-final with them last season and their recent games.
"We will attack, I expect a nice game – they have some good players and are a great team, but so are we. We're going to try to win and maybe we'll deserve to get the trophy.
"[Daniel] Alves is suspended and Eric Abidal too, but we played today without [Rafael] Márquez and [Carles] Puyol, and [Yaya] Touré hadn't played in central defence for ten years but I think he did well. We will have different players in the final, but we will play the same – play the ball, move the ball and try to score goals.
Barceona will be aiming to complete a treble in Guardiola's first season in charge and the rookie coach admitted that he did not expect the club to be so successful this year.
"Obviously I'm really pleased with how things have gone this year," he said. "I have to be honest and say I didn't expect so many good results in the first season.
"My first target is to finish off the league, then try to win the [Spanish] Cup final against [Athletic Club] Bilbao next week and then we can look forward to the final with United. To be in two cup finals means it's a good season."
Chelsea manager Guus Hiddink believed that Chelsea should have wrapped up the win before Iniesta's dramatic late intervention.
"I'm still very disappointed, but I'm full of adrenalin and I have to try to calm down and give an analysis of what has happened," said the Dutchman. "We played a very decent game, tactically well, but we should have decided the game already.
"At this level it's very difficult – two or three open chances we should have [taken] then we wouldn't have all this fuss.
Chelsea felt aggrieved that a number of penalty claims were dismissed by referee Tom Henning Ovrebo.
"You have always glasses a little bit coloured but sometimes you have to give the benefit of the doubt to the referee," said Hiddink. "Players make many mistakes, coaches make mistakes, referees make mistakes, and that's why we talk about giving them the benefit of the doubt. That's all in the game.
"It would have been nice to have another final, a repetition of last year, but there's disappointment [in the dressing room] that we didn't finish the job. I can understand fully the emotions of the players."
Hamburg take a 1-0 lead back to the Nordbank Arena for the second leg of their UEFA Cup semi-final against fellow Germans Weder Bremen.
For more fascinating features, subscribe and save 30% and use the below link?