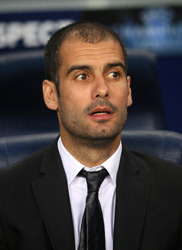 Save up to 33% on a subscription to World Soccer
Barcelona coach Pep Guardiola has hailed Manchester United as an "extraordinary" team ahead of the sides' Champions League final later this month.
Guardiola watched his team beat Espanyol 2-0 in the Catalan derby at the Camp Nou on Sunday to move within a point of winning the title, just as Sir Alex Ferguson's side had done earlier in the day with a 2-1 victory at home to Chelsea.
Guardiola says he is wary of United's quality and strength in depth.
"They played a Champions League semi-final [second leg against Schalke] with a team full of reserves and they won 4-1 – that says everything you need to know about the quality they have," Guardiola told the post-match press conference. "They have a great squad with two great teams and extraordinary players."
The Barca coach is keen for his side to seal the league title before focusing on the final.
"We will try to wrap up the league and then we'll think about the final," he said.
Xavi echoed the sentiments of his coach. "We're almost there and we want to win it as soon as possible so we can have our heads focused on Wembley," he said.
Captain Carles Puyol was deemed unfit to start against Espanyol, but Guardiola says he will be ready to play at Wembley.
"He was out for three months (recently) and the doctors decided he wasn't in shape to play today, but he is building up his fitness and will feature more in the next few games," he said.
Left-back Eric Abidal came on to play the last 20 minutes and Guardiola confirmed that the Frenchman, who has recently returned from an operation to remove a tumour from his liver in March, could also be ready to play in the Champions League final.
"Abi had a few minutes the other day [in the Champions League semi-final second leg against Madrid] and played for longer today," he said. "We hope he can gradually play more and more and build up his fitness for the final."