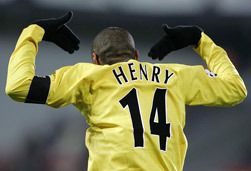 Arsenal striker Thierry Henry was "over the moon" after breaking Ian Wright's club scoring record with both in the 2-0 Champions League win at Sparta Prague.
"It sounds great to hear 'Thierry Henry, record goalscorer for Arsenal'," the French striker said after scoring his 186th goal for the club.
"Wrighty was a great player and will always be a legend at Arsenal. To beat his record is tremendous.
"I wanted to do it at Highbury but if I get the chance to score I'll take it."
Henry appeared after just 15 minutes of last night's tie in Prague, replacing Jose Antonio Reyes who sustained a broken rib.
His goals helped Arsenal to their third win in the tournament this term and put them within one more point of automatic qualificaton for the knock out stage.
"It was an important victory for us after the West Bromwich Albion defeat," he added.
"We showed our character. I was happy to put the ball in the net and delighted to get the record.
"Their fans didn't realise why I was celebrating like that – I was trying to draw the number 186 in the air."
However, the 28-year-old, who has less than two years left on his contract, refused to be drawn on his long-term future.
"It's really important to concentrate on this season and see what happens. I will discuss it at the end of the season," he added.
"I've seen a lot of speculation but whenever I step onto the pitch, I give it all my heart and play 100%. You can never doubt my commitment on the pitch and hopefully people will respect that."
Manager Arsene Wenger admitted he almost left Henry on the bench because he had only planned to use him for 30 minutes at most as a substitute.
"He'd only had one short session with the team in 37 days and that's not a lot. I didn't expect him to be on the pitch after 15 minutes and neither did he," Wenger said.
"When I told him he was going on, he just looked at me.
"But when he came on, he wanted to score so much that he kept on trying and his class allowed him to score the first goal.
"It's an exceptional record. He's beaten it in a short time and he's not even a typical goalscorer. He's an all-round player, not a guy who lurks in the box.
"It's really unexplainable that a guy who is not only interested in scoring goals should score so many. He'll not only have a place in the history of Arsenal but in the history of football.
"He's still just 28 and Ian Wright was 33 or 34 when he broke Cliff Bastin's record. Thierry has a lot of time in front of him and there is a lot more to come from him."