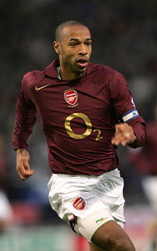 Arsenal striker Thierry Henry insists he will not be rushed into making a decision about his future and denies that he owes the fans an early resolution to the saga.
Henry, 28, is yet to renew his deal, which ends in 2007, and has been linked with a move to Spanish side Barcelona.
"Who do I owe, and for what?" said Henry. "Don't you see my commitment on the pitch?
"I'm a human being and need time to take my decision. I don't think about the word 'owe'. I owe something to my Dad, yes, who put me on this planet."
Arsenal manager Arsene Wenger denied the idea that winning the Champions League would fulfil Henry's Arsenal ambitions and encourage him to leave in search of fresh challenges.
But Wenger added that winning titles was not the only factor in a player's decision.
"The best way to keep your best players is always to win but it is not enough," said Wenger.
"There is more to it to than that. When you commit yourself to a club for a long period it is not just about winning.
"It is because you share the right values with the club and you play the kind of football you love to play. I like to think that is a better reason to stay here."
Frenchman Henry is Arsenal's all-time record scorer with 207 goals in seven years at Highbury.
He has won the World Cup and European championships with France and domestic titles with Arsenal. The only omission from what is undoubtedly an impressive CV, is sucess in the Champions League.
"Don't get me wrong, I know for the fans and the club it is already a bit special but it doesn't stay on your CV," Henry said.
"It is a big piece of history for the club but not the kind of history that we are looking for. It's a fact that it's the big thing missing on my CV but also Arsenal's CV."
Subscribe to World Soccer – The essential football magazine.