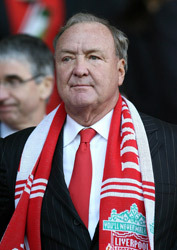 UEFA Cup – Braga v Psg, click here for BestPrice odds!
Liverpool co-owner Tom Hicks has spoken of his delight at manager Rafael Benitez's decision to sign a new five-year deal with the club.
Hicks has been a firm backer of Benitez, and like Benitez, was concerned about the role being played by chief executive Rick Parry. Although Parry will leave Anfield in the summer Hicks confirmed that Liverpool are in no hurry to find a full-time replacement.
"I was never worried we would lose Rafa Benitez," Hicks told Sky Sports News, with the Spanish coach now signed up until 2014. "These things are complicated. A five-year contract is complicated, so I'm just relieved we finally got it done.
"From the supporters' point of view, to have it done on top of such a great week on the pitch is great. We have a chance to catch Manchester United. It's not a great chance, but it's a chance."
Hicks blamed the media for portraying Liverpool as a club in the middle of an internal crisis, insisting the situation had been blown out of proportion.
"That was in the media but it was never really true," he said. "I sat down with Rafa a couple of months ago and he made it very clear that he knows a manager can't have control over transfer budget.
"He has had his frustrations over the last five years and those are well chronicled but he will make the recommendations about which players we sign and the new CEO, the owners and the board will make the final financial commitment. And that is the way it needs to be."
"If you look back at the last two years, we have followed his recommendations. We signed Fernando Torres, extended Jose Reina, signed Yossi Benayoun, Ryan Babel, Martin Skrtel, Javier Mascherano and Andrea Dossena.
"We even signed (Robbie) Keane and that didn't work out. I know we want to re-sign (Daniel) Agger. I think that Rafa is not worried about that.
"Rafa is a professional. He knows he has to work to a budget. A budget will be set every year based on revenues.
"A new chief executive will communicate more effectively with Rafa and other members of senior management. I feel very good about the direction of the club right now.
"We are going to take our time (with the search for a new chief executive). We want to make sure we get it right. It may take six months."
UEFA Cup – Braga v Psg, click here for BestPrice odds!
For more fascinating features, subscribe and save 30% and use the below link?