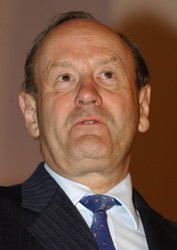 Lord Stevens' inquiry into alleged illegal payments by Premier League clubs has named five clubs and seventeen transfers which breached regulations.
Chelsea, Newcastle, Bolton, Portsmouth and Middlesbrough were all accused of breaking transfer regulations.
Stevens has also expressed concern about two managers. One is Newcastle boss and former Bolton manager Sam Allardyce, and the other is Graeme Souness, with Stevens reporting "inconsistencies in evidence" provided by the former Newcastle manager and Kenneth Shepherd, son of Magpies chairman Freddy Shepherd.
Of the 17 transfers, four were Newcastle signings (Emre Belozoglu, Jean Alain Boumsong, Amady Faye, Albert Luque), four Bolton (Ali Al-Habsi, Tal Ben Haim, Blessing Kaku, Julio Correia), three Chelsea (Didier Drogba, Petr Cech, Michael Essien), three Portsmouth (Collins Mbesuma, Benjani Mwaruwari, Aliou Cisse) and two were signed by Middlesbrough (Aiyegbeni Yakubu and Fabio Rochemback) while the details of one transfer has not been disclosed.
Lord Stevens said in a statement: "Many lessons have been learned and strict adherence to and enforcement of the recommendations should ensure that the game and the transfer market can proceed in an untainted and transparent manner."
The Premier League will now send the findings to the FA and Fifa.
An FA spokesman said: "Following the final report of the Premier League's Quest Inquiry, the FA will give full consideration to its contents and the documentation that is due to be passed on by the Premier League and Quest.
"The FA has provided full co-operation and support to the Premier League and Quest and will now go through their information as part of our governance and regulation process. This will determine what action is required."