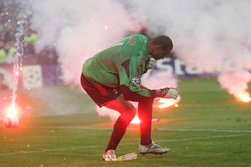 Milan have been provisionally awarded the quarter-final tie against Inter after the game was abandoned amid ugly scenes at the San Siro.
Uefa will decide on Friday what action to take after crowd trouble forced the Champions League quarter-final between and Inter to be abandoned
German referee Markus Merk led the players off the field with 15 minutes remaining after a large number of objects, including flares and bottles, were thrown.
One of the flares struck Milan goalkeeper Dida on the shoulder, leading to Merk taking the teams off the field.
The trouble started when Merk's disallowed what appeared to be a legal headed goal by Esteban Cambiasso midway through the second half.
Play resumed for 30 seconds after a 20-minute delay before being abandoned when more missiles rained down.
Uefa is likely to confirm on Wednesday that the tie will be awarded to Milan, while Inter can expect to face severe sanctions by European football's governing body.
UEFA may decide the final 17 minutes need to be played in an empty stadium or it can award a semi-final berth to the visitors.
A Uefa spokesman said: "The referee and the match delegate have provisionally declared the (second leg) result a 1-0 win to Milan.
"But the matter will be decided by the control and disciplinary body."
Milan director Umberto Gandini is convinced Uefa will award the victory to his club.
"It was an ugly night for Italian football and for the city of Milan," he told the club's website.
"There is satisfaction for our qualification but also bitterness on the way it finished."
Milan defender Paolo Maldini, playing in his 50th Milan derby, believes referee Markus Merk had no option but to abandon the match.
"We couldn't go on, we couldn't finish the game. We tried to clear the pitch but they threw many things again," said the 36-year-old.
"I believe the referee took the right decision.
"It is the first time in 20 years of my career that this has happened," he added.
"Nothing has ever happened before between supporters of the two teams, it was very bad."
The incident comes after a series of incidents at the weekend with the Italian government threatening to close some grounds after 85 police officers were injured across Italy.