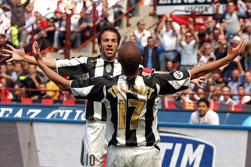 Juventus took a huge step towards a 28th Italian League title with a 1-0 victory over Milan which moves Fabio Capello's team three points clear with three games left.
David Trezeguet's 28th minute heade, glancing home an overhead kick from Alessandro Del Piero, gave Juventus a deserved victory over the defending champions at San Siro.
Milan coach Carlo Ancelotti remained defiant, stating that title was still within reach despite Sunday's defeat.
"Certainly it is now more difficult than it was before the game but it is not impossible," said Ancelotti.
"What we have to do now is to try and win the last three games and hope that Juventus slip up."
Capello's side appear to have the easier run-in. They entertain struggling Parma and then face two mid-table teams, Livorno away and Cagliari at home.
Milan go to Lecce and then face high flying Palermo side before a difficult finish at Udinese, who are in contention for a Champions League spot
Ancelotti refused to discuss an incident when Milan's Brazilian wing-back Cafu appeared to have been brought down for a penalty by Gianluca Zambrotta.
"I'm not getting involved in that discussion – now we have to look ahead," said the Milan coach.
"Juve had their chances and they took them but we were in good health and we gave our all."
Milan captain Paolo Maldini agreed with his coach that the battle for the 'scudetto' remained open.
"It is not finished," he said. "Sure, the win gives them an undeniable advantage … on paper they have an easier run-in than we do but nothing is certain yet.
"We have shown that you can lose points against teams that, in theory, you should comfortably deal with.
"If they go on to win the title then they will have deserved it but I think we have the better squad overall."
He also pointed out that Milan's Champions League semi-final, second leg, game at PSV Eindhoven on Wednesday might have had a bearing.
"It is much better to be able to prepare for a game like this one with seven days of training than to play in a tough tie such as ours but I prefer to be in the Champions League final and I wouldn't swap that with Juve," he said.
Juventus have imposed a press ban and a spokesman said players and officials would not talk to the media until the end of the season.
This follows a recent incident in which Del Piero was caught on television swearing at Capello after being substituted for the 26th time this season.