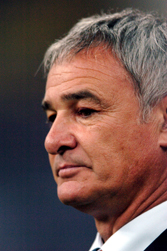 Juventus have confirmed that they appointed Claudio Ranieri as their next manager ahead of three or four other candidates.
Ranieri won was praised for his role in leading Parma to Serie A safety this season, and won the post ahead of a number of highly qualified candidates, according to Juve chief officer Jean-Claude Blanc.
"We made this choice after a professional evaluation," Blanc told the Italian press. "We believe that this one is the best possible solution for Juve's present and future.
"His attitude and behaviour then, are following the style we want to give to our club.
"I think Ranieri believed in our plan; he's the right man to build a team that could be a mix of champions and young players.
"In our list there were another three or four names, but the end choice we took was Ranieri. I have no intention of revealing who were the other names.
"The sporting plan we presented Ranieri is the same we had offered to Deschamps; a contract until 2010 with salary practically the same.
"Didier didn't consider it enough, everyone makes his own choices and takes his own responsibilities."
Ranieri had been expected to return to England to become Manchester City's new coach, but he found the lure of Juve impossible to resist.
"I know it is a big problem for me, to choose, but Juventus is one of the best teams in the world," Ranieri told Sky Sports News.
"It was difficult to say no to the big project at Manchester City – but the team has not taken over yet and for me I cannot wait for one week more.
"I have a very good project now in Italy and Juventus, and I am very happy here."