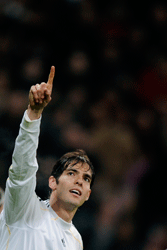 AC Milan beat Napoli 3-0 last night and are now a best price 10/13 to win the Serie A title…
Real Madrid midfielder Kaka's father and agent has not ruled out the possibility of a return to Milan.
Bosco Leite was at the San Siro on Monday night for the Rossoneri's 3-0 victory over Napoli.
Kaka joined Madrid from Milan in June 2009 and signed a six-year contract with the Spanish outfit.
However, injury has undermined the Brazilian's progress this season and speculation has mounted that he could make the move back to Italy.
Leite told Gazzetta dello Sport: "My son back to AC Milan? You must ask (chief executive, Adriano) Galliani.
"If there are possibilities to do it? Let's see what happens."
Meanwhile, Milan manager Massimiliano Allegri has fuelled speculation by hinting that a deal could take place in the summer.
He added: "The market is closed, this will be discussed for next summer."
AC Milan beat Napoli 3-0 last night and are now a best price 10/13 to win the Serie A title…
Take advantage of the sales by saving up to 36% on a subscription to World Soccer