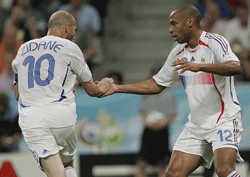 Italy coach Marcello Lippi believes that it is Zinedine Zidane's renaissance that has inspired the whole France team ahead of Sunday's World Cup final.
Zidane, who is to retire after the final, played under Lippi for three years at Juventus and the pair will meet again in Berlin.
"France have recovered the best Zidane and have grown through the tournament. Beating Portugal confirmed that they are in top form," he said.
"Zidane is probably the best player there has been in the past 20 years."
Italy may be tempted to man-mark Zidane in the final, with tenacious midfielder Gennaro Gattuso the player most likely to shadow the French playmaker.
Defender Marco Materazzi said: "We have players that can mark Zidane, like Gattuso.
"There's no need to charge him up, otherwise he is capable of splitting the world in two."
Materazzi is the lucky beneficiary of Alessandro Nesta's injury, which will keep the Milan defender out of the final.
"For Alessandro it's a difficult time," added Materazzi. "This is his third World Cup and each time he's had a physical problem.
"For me, he is an idol and a point of reference."
Italy will look to draw inspiration from their most recent tournament exits. They went out to co-hosts South Korea in the second round of the World Cup four years ago and were then knocked out at the group stage of Euro 2004.
Skipper Fabio Cannavaro: "We've accumulated a lot of anger after two major disappointments.
"We put that rage to good use on the pitch and you can see that at the World Cup – we are turning that anger into something positive."