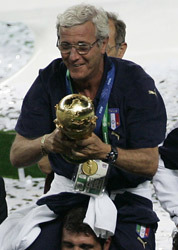 Marcello Lippi has resigned as coach of Italy after leading his country to World Cup glory.
Despite calls for him to stay in charge following Italy's win over France on penalties, Lippi has decided to leave.
Lippi was due to attend a meeting with the Italian Federation on Tuesday, but he failed to turn up.
"I believe that I have achieved what I set out to achieve as coach of the Italian team," Lippi said.
"At the end of an extraordinary professional and human experience, experienced as the head of an exceptional group of players…I believe my role is over as the guide of the team.
"I want to thank the federation for the confidence it had in me during the last two years of work crowned by a result that will rest in the annals of Italian football and live on in the memory of our fans," he added.
Italian Federation vice president Giancarlo Abete praised Lippi for his "extraordinary professionalism and his ability leading the team."
The former Juventus coach has been linked with a move to Manchester United and is regarded as a potential successor to Sir Alex Ferguson.
But Lippi was quick to reject the speculation – citing his lack of English as his reason for not moving to the Premiership – and United also denied the rumours.
Although he is not under investigation, Lippi was questioned by prosecutors before the World Cup about pressue he came under to select certain players for the national team.
His son, Davide Lippi, is under investigation for his position at a player agency linked to the scandal.