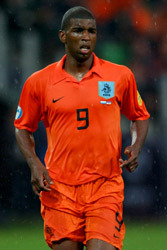 Liverpool are poised to sign Ajax striker Ryan Babel after the two clubs agreed an £11.5m deal for the player.
"The striker, who had a contract until 2010, will sign a five-year deal with the Champions League finalists," said a statement on the Ajax website.
The 20-year-old was a member of the Dutch team that won the European Under-21 Championship in June.
Babel made his debut for Ajax aged 17 in February 2004 and has scored 24 goals in 111 matches.
Babel made his full inertnational against Romania in a qualifier for the 2006 World Cup during which he scored the first of his four international goals to seal a 2-0 victory.
Ajax technical director Martin van Geel had previously insisted that Liverpool match the Dutch club's valuation of the player.
"Liverpool are willing to pay a huge sum for Ryan," he said. "We have told them what we want, and that's 20m euros (£13.5m). That is our price.
"We would like to see Babel play here next season, it's not for nothing that we have extended his contract until June 2010," added Van Geel.
"But if these kind of clubs want to pay us these figures it says something.
"We will see if we can reach a deal in the coming days."