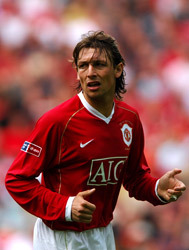 Liverpool manager Rafael Benitez has confirmed that the club's lawyers are working on a way of forcing through a deal Manchester United defender Gabriel Heinze.
United boss Sir Alex Ferguson has already stated that he does not want to sell Heinze to his arch-rivals.
Liverpool have agreed to meet £6.8m fee that would secure the 29-year-old Argentine defender's release, but United are refusing to negotiate.
Benitez said: "We made an offer which they rejected. The lawyers are working on it now so we have to wait."
Ferguson does not want any of his players to join Liverpool.
The United manager said last week: "I can assure you Liverpool will not be getting Gabriel Heinze.
"We have had a couple of offers for him and we have turned them down."
"Heinze's agents are rolling the ball all the time but no matter what his agent thinks, we are in the driving seat.
"I don't exactly know what Gaby thinks because it is all coming from his agent but this has been going on for a year-and-a-half now."