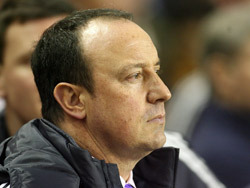 Liverpool co-owner George Gillett has denied reports claiming there has been a fall-out with manager Rafa Benitez over transfer funds.
However, the American tycoon says the club will not be throwing money around indiscriminately this summer.
Suggestions that Liverpool have been priced out of the market for the likes of Valencia striker David Villa and Barca forward Samuel Eto'o, have been denied by Gillett.
"I read that Rafa is throwing hand-grenades at us and making demands, that there's a tension or disagreement between him and the Gillett and Hicks families," Gillett said in The Times.
"Nothing could be further from the truth.
"As far back as February, Rafa laid out a programme for us.
"Each one of our sports businesses has a core concept. It has to be part of an integrated plan.
"We have one at Liverpool, one we understand 100 per cent, believe in and support. The plan involves us spending money, but it will be part of a plan, not just spending like a drunken sailor."