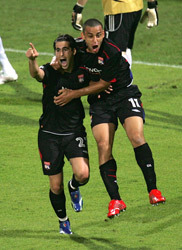 For Premiership, Champions League, Uefa Cup and Football League odds click here.
Lyon have again demonstrated their Champions League credentials with a comfortable 2-0 victory over Real Madrid.
The French champions' second success in a row over Real at the Stade Gerland proved that they can now be considered potential winners of the trophy.
Gerard Houllier's men created numerous chances to score and Real coach Fabio Capello confirmed that they were now a side to watch in the Champions League.
Young Brazilian striker Fred put them ahead on seven minutes before midfielder Tiago slotted from inside the on the half hour mark.
"From my point of view, the first half was simply outstanding," a smiling Houllier said. "I was really proud to be the manager of Lyon after the match. I found Real stronger than they were last year."
Real had lost 3-0 at Lyon in their first group match of last season.
"They were superior to us technically and physically," said Capello, who joined Real from Juventus in the summer.
"In the first half we were dominated and we showed some weaknesses in defence. There is a lot of rebuilding work to do but we must remain confident," he said.
Houllier hoped his team could continue to improve.
"We won again and even if the scoring was less than last year, the way we clinched this success is a great satisfaction," he said.
"Our team has gained confidence and it shows now a great maturity. This can only be comforting for the future."
"Fred and some other players are international class," Houllier said. "To move up to world class they need to repeat performances like tonight's on a regular basis."
For Premiership, Champions League, Uefa Cup and Football League odds click here.