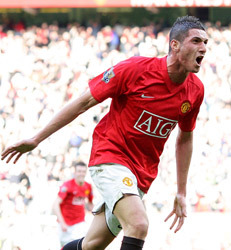 Federico Macheda admitted his injury time winner on his Manchester United debut against Aston Villa at Old Trafford on Sunday was the stuff of dreams.
The 17-year-old, who came off the bench as a 60th minute replacement for Nani with United trailing 2-1, made it an unforgettable day when he curled home a last minute winner to make it 3-2 to the champions.
The Italian found himself on the bench with fellow striker Wayne Rooney missing out and Dimitar Berbatov ruled out through injury.
The former Lazio youth team player joined the club in September 2007 and transferred his goalscoring form for the reserves – where hs scored 10 goals in 16 appearances this season – into the first team.
The goal could yet prove to be decisive in the destination of the Premier League title with the three points sending United back to the top of the table.
"I think this is the day of my dreams. It was my dream to have my debut and to score a goal like that. I very much enjoyed it," he said.
Macheda also revealed that Ferguson had just told him to go out and play his normal game just before he took to the field.
"(He said) just play simple as you know. Just go out and play," he added.
The youngster shared the moment with his family as he ran over to the corner flag to celebrate with his father.
"I run to my dad and my family and I went to them and they were celebrating too," he explained.
United manager Sir Alex Ferguson was delighted that his gamble paid off.
"I told him 'well done'," stated Ferguson. "It's important to keep his feet on the ground. He'll need to handle lots of publicity over the next few days.
"It was a gamble but we deserved our result today because we tried to win.
"We take risks but risks are a part of football. We didn't defend well but there's always a goal threat from us."
For more fascinating features, subscribe and save 30% and use the below link?