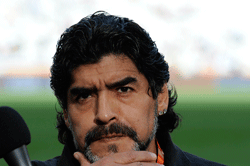 Sven-Goran Eriksson remains among the leading contenders to land the Fulham manager's job – see the best odds on every candidate here.
Diego Maradona reign as Argentina coach has ended after the Argentina Football Association decided not to renew his contract.
Maradona, 49, admitted he wanted to stay in the job ahead of a meeting with AFA president Julio Grondona on Monday.
But, after Maradona rejected demands to change his backroom team, the AFA voted not to renew his deal and appointed under-20 coach Sergio Batista caretaker boss.
Maradona originally suggested he would step down following the World Cup quarter-final exit at the hands of Germany in South Africa this summer. But he underwent a change of heart and asked was prepared to stay on, provided he could retain his full backroom staff.
The AFA refused to meet Maradona's demands with federation president Julio Grondona looking to reorganise the backroom team.
AFA spokesman Ernesto Cherquis Bialo said: "The president put some salient points to Maradona in their long conversation yesterday.
"And the executive committee unanimously resolved not to renew Maradona's contract as technical director of the national teams."
Grondona said: "It is difficult to agree. The hardest difference to agree on was changing some of Diego's staff.
"Nobody has been sacked. A contract has not been extended because the conditions were not suitable.
"When you cannot agree with somebody you love, you are not happy at all.
"I always want to talk to him [Maradona], but sometimes it is difficult because this is not the best moment."
AFA general secretary Jose Luis Meiszner was less saddened by the situation, telling cable channel C5N: "I would be a hypocrite if I didn't admit there was a general disliking of several aspects of the cycle that ended with the World Cup.
"We did not see any intention to show humility, to say that things should have been done better.
"There was no evaluation, no review, no conclusions. These are the things you have to think about in order to think about the future."
Maradona took charge of the national side in November 2008 and helped Argentina qualify for the World Cup after an indifferent qualifying campaign.
Argentina won all three of their group games in South Africa, but were thrashed 4-0 by Germany in the quarter-finals.
Estudiantes coach Alejandro Sabella, who was Daniel Passarella's assistant at the 1998 World Cup, Racing Club boss Miguel Angel Rosso and Batista have all been suggested as potential successors to Maradona, but Grondona says that no candidates were yet in the frame for the full-time role.
"We have time to choose the technical staff," he said. "We have not thought about anybody yet.
"Batista is a member of the staff of this body so he will obviously fill the place as long as is needed."
Sven-Goran Eriksson remains among the leading contenders to land the Fulham manager's job – see the best odds on every candidate here.
Make sure you don't miss any of the last news and articles from World Soccer. Subscribe to World Soccer today and take advantage of our all 50th anniversary offer, saving up to 50%!