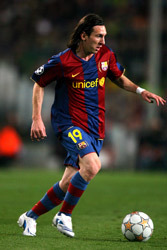 Can Liverpool overturn a 1-0 deficit in their Europa League 2nd leg against Lille? See the betting here.
Stuttgart boss Christian Gross believes Lionel Messi can now be compared to Argentinian legend Diego Maradona.
Messi, who scored a hat-trick against Valencia at the weekend, continued his impressive recent form with two goals as Barcelona outclassed Stuttgart 4-0 at Camp Nou to secure a 5-1 aggregate victory and a place in the last eight of the Champions League.
Gross admitted his team "were missing the bravery which served us so well three weeks ago", but he feels the FIFA World Player of the Year should now be considered alongside the all-time greats.
"They started coming at us so quickly and we tried our best to stay with the pace," he said. "[Messi] is the best player in the world. He's a fantastic talent and it's incredible to think he's only 22. We can now compare Messi with Maradona."
Gross believes the reigning champions may have been boosted by the fact Real Madrid were knocked out of the competition by Lyon last week.
"They were playing in front of their supporters and they are so strong, both individually and collectively," he said. "Maybe the fact Real Madrid were eliminated gave Barcelona extra motivation."
Barca boss Pep Guardiola, meanwhile, has suggested that Messi will take on an increasingly central role for the side in the future.
"Last year we won six titles and he played wide but we need him involved and sometimes he sees more of the ball when he plays more in the centre," he said. "But he is the best, wherever he plays.
"We took to the pitch with great intensity and were aggressive in our approach; we never allowed any time to think.
On Friday's Champions League quarter-final draw, Guardiola added: "Every team in the quarter-finals is strong and when we get there we'll have to produce two excellent games in order to advance."
Can Liverpool overturn a 1-0 deficit in their Europa League 2nd leg against Lille? See the betting here.
Make sure you don't miss any of the last news and articles from World Soccer. Subscribe to World Soccer today and take advantage of our all 50th anniversary offer, saving up to 50%!