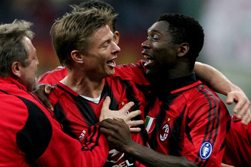 Milan coach Carlo Ancelotti admitted his team had "suffered" in their 2-0 Champions League semi-final, first-leg win over PSV Eindhoven.
"I think at the highest level, like this, you have to expect to suffer like we did. PSV are a good team and it is a good result but we shouldn't be too self confident, the second leg won't be easy," said Ancelotti.
"We performed well in the first half but not in the second. After the break we were far too focused on defending and counter attacks. Luckily we managed to get a really great result out of the game," he added.
Andriy Shevchenko had put Milan ahead, but until a last minute strike from Jon Dahl Tomasson gave PSV had gone close to an equaliser on several occasions.
"Playing against PSV is above all a question of rhythm. They don't have many dynamic players but when they brought the pace of the game down then they had us in some trouble," said Ancelotti.
"On the level of quality there is no doubt that Milan is a superior side but in these games experience counts a lot- as does courage and personality. Their performance didn't merit a 2-0 defeat but we'll take it.
"In the first half we performed some of our best football of the season but at this point of the campaign we can't start celebrating yet," he said.
"We are under intense pressure and we have to think about Fiorentina on Saturday in Serie A," added Ancelotti, whose side are joint leaders in Italy along with his old club Juventus.
"We've baked the cake now we need to put the icing on it. We have to prepare well for the return leg and we need to weigh up how they caused us those problems in the second half."
Substitute Tomasson who sealed the win for Milan in the closing stages, concurred with his coach's assessment.
"PSV played an excellent game, both teams had a lot of opportunities, we didn't play as well as we could today but in general Italian teams have a problem against Dutch teams.
"You saw that against Ajax two years ago — we beat them but we struggled," said Tomasson.